Thu, 17 February 2011
Sunday, Anna and I went on our annual Daddy-Daughter date for Valentine's Day. She looks forward to the event all year long. Looking back on it, so do I. There's not many times during the year when she and I are able to hang out by ourselves. Usually it's Mason and me.
To begin with, Anna prepared all week by drawing a map of our activities. The elaborate plot was 'just like last year' with an addition. We found that the new Kohl's in Victor has all kind of girlie clothes so that HAD to be our first stop. Indicated on the map are $ signs where I'm supposed to spend money. We would drive to Kohl's then go to Eastview mall where we would walk to Build-a-Bear, Claire's, Justice, dine at Friendly's, then end our time shopping at Anthropologie, where I usually read her love poetry from one of the cool books they have there.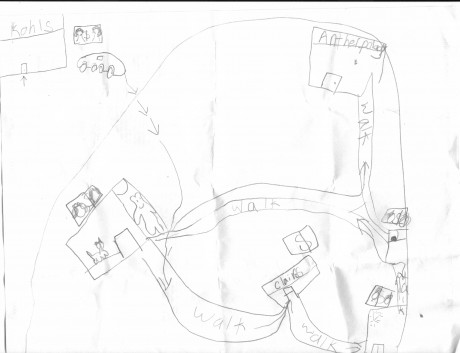 Anna's detailed activity map
The morning of our date, Anna needed to make sure that I was properly outfitted for the event. She loves to see her dad wear pink. She claims that it's my favorite color. She found the only pink shirt and sweater I have in my closet (things that my wife had bought for me to 'prove I could wear pink' and still be a man). The finishing touch though, was my first 'pedi'. Anna was tired of seeing my toenails that have been blackened from a couple of bad skiing landings. So, she got out the purple and pink nail polish and voila!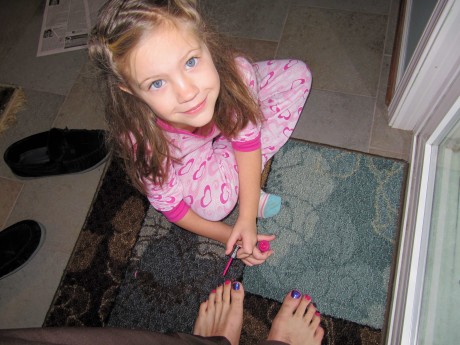 Anna gives daddy his first pedicure
Our dates are all about shopping, because that is something I just won't do most of the rest of the year. It's also a great excuse for Anna to get some new fashion. There's nothing she likes more than fashion. Our date started off great. We spent almost 2 hours in Kohl's trying on everything in sight.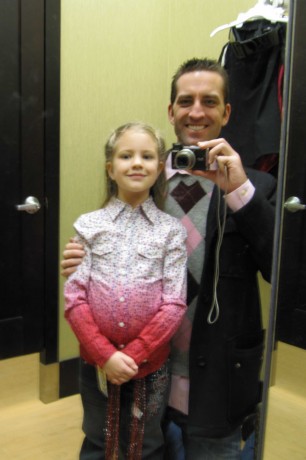 Trying on fashion at Kohl's. This was NOT one of the 10 dresses that she also tried on
It's fun to watch what she gravitates towards. Dresses…sparkly dressy dresses. Yet, after all of that effort, we didn't buy a thing!
To the mall we went. My highlight of our dates is going to Claire's. That is the place where dad's should never go. If you do, it is a requirement that you attempt to embarrass your daughter. Anna is already onto my antics, and she plays right along…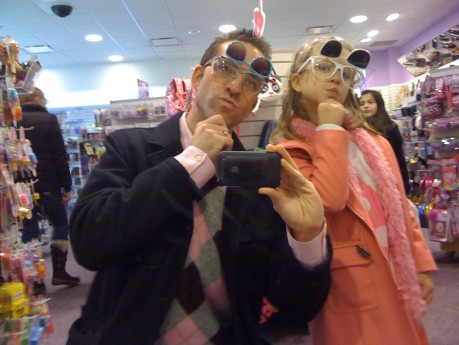 Anna and Daddy at Claire's being very…intellectual
Our time was winding down before we had to rush off to a TYKEs show. We had time for our annual Friendly's lunch. I tried to warn Anna that Friendly's had moved out of where it used to be, and was now Friendly's Express. This made Anna very upset. When she calmed down I finally got to the bottom of her angst. She wanted to be able to sit down for our meal and have me draw a picture of her on a napkin – just like last year. Because Friendly's is now in the food court, she thought we wouldn't be able to do that. Luckily, the new Friendly's is AWESOME! It is a different concept. You order your food at a counter, take a number and go sit at a table where the staff will bring your good old favorites right to your table. The best part is that they still give you crayons, and you can still draw pictures of your daughter while you wait.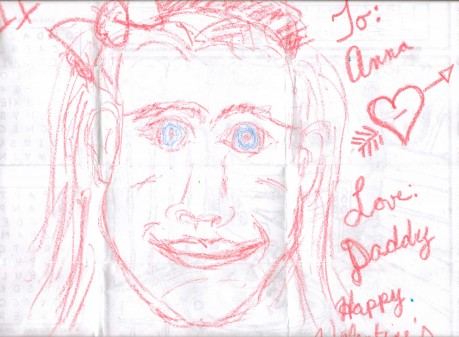 Anna through the eyes of her dad. Friendly's Express Eastview Mall 2011
After our Friendly's it was a mad dash back to Claire's to buy some make-up that 'mommy probably wouldn't me to buy'. Hey, you're with Dad, cha-ching… We left the mall for our show, but when we got to the show. I had a daughter in tears. She had somehow dropped the fuzzy scarf I bought her on Valentine's Day last year in the mall parking lot. "It was so special to me", she said in a ball of despair. After the show we just had to go back to the mall to find it. And back we went. I drove there knowing that I would likely have to buy a replacement scarf to make this day right again. I drove to where we had parked before, and lo and behold there it was! A good samaritan had draped Anna's scarf over a car at the end of the row. Thank God for great people. Anna was thrilled.
Anna was also thrilled that the line at Build-a-Bear was not wrapping out the door of the place. She picked out a fuzzy pink bear. We rubbed the hearts, and brought 'Nina' to life. There's nothing like Build-a-Bear to make a little girl happy.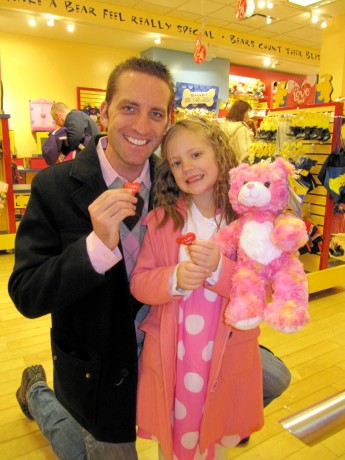 Anna and Daddy putting some love into "Nina"
Our Daddy-Daughter date was filled with shopping and drama. We went to Anthropology for poetry, and TJ Maxx for a pretty skirt and a dress (much cheaper there ya know…) We had a great time together. It might take me til next year to recover. I had better start drawing my map now