Wed, 31 December 2008, 12:11 am
For the last few months I've been using Twitter as an excellent learning tool. It has provided this work-from-homebody some much needed "presence" from other smart marketing professionals. It's as if they're in my office feeding me their expertise, even though many of them I don't even know.
Another goal of mine has been to use Twitter to get more networked within the Rochester, NY market. After all, working remotely for a company in Chicago is great, but it doesn't help me meet local professionals. So, I started following Rochester, NY marketing and IT professionals, designers, Kodakers and people from local advertising and PR agencies. The easiest way to do so was to find people in Rochester, NY on twellow.
Along came a 'Tweetup'
On a whim, a couple of Steves (Hersh and Boese) called for tweetup at Tully's on December 29. As it was retweeted about town, I mulled over the possibility of going to a good bar to meet some complete strangers on my holiday break. I haven't been able to attend similar gatherings by the Rochester Social Media Club usually because of one conflict or another.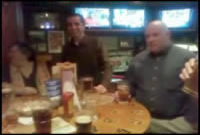 photo from Tom Collins
This was a fun event. Not of the epic proportions that Silicon Valley boasts, but a great way to connect with 10-12 great people over beer and good food. A few things I learned:
I'm sure I'll take the time to go to more events like this in the New Year. I've got no better resolution than that. Thanks to everyone who attended. I really enjoyed your company. Oh, and have a look at Tom Collins' recap of the event as well.