Completed: January 2010
Challenge
At the height of the economic meltdown of 2009, Hudson North America restructured its sales teams to focus on local geographies and industry specializations. With this restructure came a laser focus on new business development within our most profitable businesses. Our websites were not reflective of the new business structure, nor the solutions that could help customers in the market environment. The sites were built without Search Engine Optimization in mind, and therefore did not rank for phrases that could generate inbound leads. Our online presence needed a facelift to drive new business, fast.
Strategy
With a limited budget and timeframe to market what is 4 separate lines of business, we developed a microsite template that could serve the needs of 4 distinctly different market segments. We retained an SEO consulting firm to advise us during content development to ensure that pages focused on new business keywords, and were coded with search crawlers in mind.
Over a 4 month span, we revised or developed the content for 4 microsites, each dedicated to attracting new business to our service offerings. I focused the information architecture and creative on the best sales asset that we had – our case studies. By showcasing real solutions to past client problems, I hoped to build immediate trust with our audience.
Please visit the websites online to see more of our evolving client acquisition strategy.
Results
The effort resulted in a dramatic increase in Search Engine presence. Traffic to our sites from search engines increased 40-60% over prior year.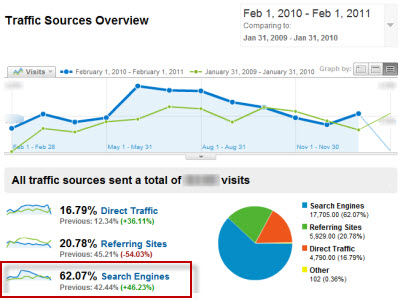 A 30% increase of new leads came in from our websites over the prior year. Even though true ROI calculations and additional sales processes to support web leads are in the future, the sites were perceived as a business driver within the company. This set the stage for future investment in technology and marketing to push the sites further.