Tue, 06 May 2008, 7:36 pm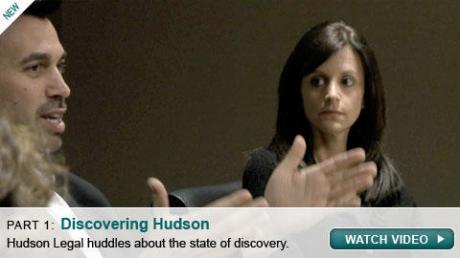 Before you read this blog entry, have a look at part 1 of the video magazine at us.hudson.com. I'd love to know what you think of it. For curious interactive marketers and other onlookers I'm about to outline the rationale of the project, its background, challenges, triumphs, and next steps. First though, would you write down your unbiased answers to these questions?
Your First Impressions
Did you have any problems viewing or hearing the video?
Did you watch all of it, or did you bail out?
What is the point of the video?
Are you enticed to view the rest of the series?
I'd really appreciate it if you'd leave your answers in the comments on this post. This has been quite a learning experience for me personally, and your comments will just add to it.
Making the Case for Web Video
In April of last year, our global marketing team convened to discuss new media and the social web phenomena. At the time, recruitment on Second Life and MySpace was grabbing headlines, while YouTube and blogging were creeping into corporate communication strategy. The common themes were transparency, authenticity and audience control of the message.
On a limited budget we agreed to test one or two new media channels to begin to participate in this movement. While not ideal to choose a channel before defining goals, we knew that a certain amount of experimentation would be required to remain competitive. Over the next 6 months the case for web video became clear – instead of writing about the "professionalism" of our people we would let their stories demonstrate it.
Enter Cantaloupe.tv
After speaking with a few large agencies who wanted to charge high-end video prices to execute for the web, I was referred to Cantaloupe.tv. Jon DiGregory, one of Cantaloupe's founders, pitched "disposable video stories" that would be compiled into an online video magazine. What Jon meant by disposable is that the relevance of web video only lasts for a short period of time similar to magazine articles. To attract viewers, the stories should be short and frequent. Jon advocates low budget, medium quality, documentary productions that revolve around the real story. After I looked at a few other client examples of reality shows, I knew we had our video partner. Taking a leap of faith, we decided to build a 12 part video magazine throughout the remainder of this year and into 2009.
Defining the Story
The first task was to define goals that we wanted viewers to take away from the videos. Cantaloupe facilitated a story building session with our marketing team and members from the business that revealed scenarios we could use to build episodes. We decided to focus on one line of business at a time starting with Hudson Legal. The result was a well defined story document that will drive the shooting of our first few episodes.
Shooting and Editing the Video
With a producer and one videographer we shot our first production at a meeting in Philadelphia in early March. As expected, the team being filmed was uncomfortable at first. After a while though the camera disappeared and they were able to function more naturally. The confessionals within the episode laid the groundwork for upcoming shoots and prepped the team for what's to come.
Editing of the video went through March and into April. The amount of editing between the marketing team, the business leaders, and Cantaloupe surprised me. Getting a video production that everyone is happy with was VERY time consuming, and one of the hidden gotchas of this project.
Framework Build-out
Once the heavy lifting of creating the web video was complete, we needed to integrate it into our websites. The online magazine framework provided by Cantaloupe would be right on our homepage where a static graphic billboard had previously resided. Our theory, of course is that its prominent location will drive the most views and entice users to interact with the rest of the site. We also will feature the videos on our microsite home pages for our different business units when they are featured within the video.
Post-Launch Activities
Now that the first episode is live, there is still plenty to do. In follow-up posts I will discuss our email marketing strategy and some of the reactions, questions that arise as we go down this path, and likely the ROI of all this effort. As we speak, we already have seven tapes worth of footage 'in the can' that will comprise episodes 2 and 3.