Fri, 20 June 2008, 12:24 am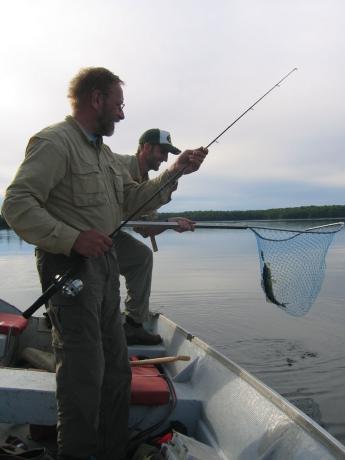 Kris nets nice walleye for Uncle Neal
From June 9-13, 2008 I spent a week making a trek up to Canada with my uncles, my cousin, and some family friends to Cabonga Reservoir, for some great walleye and pike fishing. More importantly though, it became a great way for us to unwind and connect in a positive way after spending the previous weekend doing something very hard for our family. I always provide the entertainment for the group with my knack for idiocy. This year was no exception.
Kris's 2008 Cabonga Fish Story
It was prime time fishing in the evening, 'round about 7pm. I was in a boat with Phil and Duane. We had just found out the secret to the best fishing lure from the local Indian guides. We trolled Thin Fins so fast that the boat was putting up wake and we were nailing the fish. Alas, as is typical after buying a new lure, I got it well snagged on the bottom after only about 10 minutes using it. Duane offered to use a Snag-away to release my lure from the bottom. He monkeyed with the contraption for 5 minutes unsuccessfully.
Now, I was getting frustrated. I was wasting valuable fishing time with this snag. I told my boat mates I would snap the line. What was really going through my head was "I've got one more shot to save my lure if I yank REALLY hard on the rod". So that's what I did. Suddenly I heard a twayayayanggggg….noise, and then a sploosh! It took me too long to realize that the top part of my Ugly Stik rod, that was always loose to begin with had just flung 50 yards behind me. Since I was the driver of the boat, I quickly grabbed the tiller, flung it into reverse and went after the tip of my rod. Of course they don't float, but I wasn't bright enough to think this through. Instead I proceeded to gun the engine and take on water into the back of the boat. At this point Phil and Duane calmly suggested that I step away from the tiller until I cool down a bit. They also stayed pretty quiet for a while as I grumbled about losing half of a good rod to the fishing gods. All I can say to everyone in attendance is, "You're Welcome! Tip me at the bar, I'll be here all week."
Uncle Neal's Rock Split Incident
My fish story only barely beat out Uncle Neal for Best in Show. His entry was more ballet than my slapstick, but still high quality nonetheless. The boats had split up for the afternoon, and my boat was 100 yards from where we saw Uncle Neal's boat approaching some large boulders. I knew that they were stopping by these large rocks to have a snack and rest. When I looked over my shoulder to see them dock at the rock, all I saw was a splash, and what I thought was Uncle Neal going into the water. I cried "Man down!" to my boat mates, and we quickly went over to see what happened. When we arrived, there was Neal with one soaked pant leg all the way up to his butt. Apparently he had tried to prevent the boat from making too hard of a landing at the rock. He put one foot on the boat bow, and put his other out to fend off the boat from the rock. When the boat lost its forward momentum it quickly left Neal with a "Split Decision". The boat moved away from the rock and he had to make a quick call to jump back to the boat, onto the rock, or into the water. He chose the boat, but he lost his balance and dunked his leg in the water.
It's always those great stories that makes the trip so fun. There was plenty of great walleye fishing too. In fact, the last night the fish were hitting from 5pm all the way through 8:30. It was one of those perfect nights. Warm, calm, quiet, and the fish were in a frenzy. Our stringers were full by 7:45 and we spent the rest of the night upgrading our tonnage to only the bigger walleye.
I enjoyed the trip immensely, and the time off is always good for a recharge. Here's some more photos from the 2008 Cabonga Fishing Trip.